Hungary, attack on the LGBTQ+ rights
Hungary's parliament has voted to end legal recognition for trans people, passing a bill that rights activists say pushes the country "back towards the dark ages".
The law is a major backwards step on transgender and intersex rights, and yet another violation of Hungary's international rights obligations.
The votes of rightwing prime minister Viktor Orbán's Fidesz party pushed the legislation through by 134 to 56, with four abstentions. It is likely to be signed into law by the president, János Áder, a close ally of Orbán.
Although Orbán passed a bill during the coronavirus pandemic to allow him to rule indefinitely by decree, the transgender bill was part of a larger package of legislation that went through parliament in the normal way. It was proposed by the deputy prime minister on 31 March, International Transgender Day of Visibility, and amendments submitted by opposition parties were discarded one by one on Tuesday.
This new law compounds the marginalization trans people in Hungary already face. A recent survey showed that 95 percent of respondents in Hungary believe the government does not effectively combat anti-LGBT bias. It also violates Hungary's obligations under the European Convention on Human Rights.
Hungarian President Janos Ader has a duty to ensure that people's basic rights are not violated by unconstitutional laws. He should decline to sign this law and instead refer it to the Constitutional Court for review.
The European Union's Commissioner on Equality, Helena Dalli, should strongly denounce Hungary's attack against nondiscrimination, a core right enshrined in EU treaties.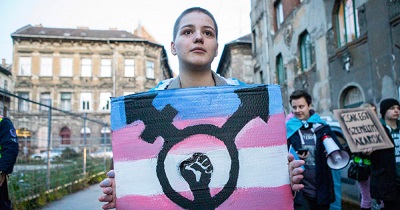 This post is also available in:

Italiano (Italian)